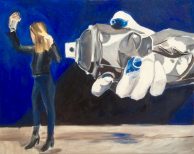 I was browsing through Instagram and came across the stunning collaboration of @fanakapan and @nunovviegas.   I got in touch with both street artists to ask their permission to use one of their works in my own composition.  Once they both realised I was not directly copying their work but was using it as a background to a narrative composition they were both completely fine and thanked me for asking them.  I would imagine quite a few people copy them without asking.
I am deeply interested in preserving street art which by its nature is ephemeral and gets painted over.   My own take though, is to change the dynamic of the street art by placing my trademark woman somewhere in the vicinity doing something which relates to that street art.  So a 3dimensional woman brings life to a 2dimensional street art and vice versa.
This woman will be standing spraying her hair with an aerosol can of hair spray as she walks past the huge hand squeezing an aerosol can of paint.    I have to think of a title now.  Ideas welcome please.
If you would like to be kept up to date with what I am up to in the next few weeks please sign up for my Newsletter at the top of the Home page.  I am also on Instagram and Twitter and have a Facebook page called Miche Artist.