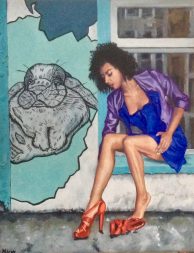 This is the third and last painting incorporating the amazing street art of Alex Lucas (@lucas_antics on Instagram). Her work is very visible in and around Bristol and I asked her if I could use some of her work in my own pieces.  She kindly agreed.
This rabbit can be found on the outside of the shop that sells her work exclusively in Stokes Croft (@thelittleshopinbristol) and I was particularly drawn to the slightly world weary view in the rabbit's eyes. I decided to leave out all the detailed black lines in the areas surrounding the rabbit as I thought it would detract from the composition.
I decided on humour in this work rather than the more political angle of my last work (Picking Up On An Uncertain World, see recent blogs).  So I placed my female sitting wearily down next to the rabbit rubbing her sore ankle as she takes off her high heeled knock'em dead red stilettos.   They are indeed beautiful shoes as is her whole outfit, but the things we do in the name of fashion eh?
I am not entirely sure whether the rabbit would ever have considered wearing shoes like these however.
If you would like to be kept in touch with what I am doing in the next few months please sign up for my Newsletter at the top of the Home Page.  I am also on Twitter, Instagram and have a Facebook page called Miche Artist as well as my usual Facebook page.