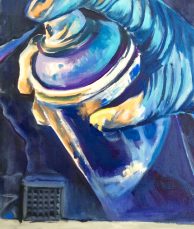 I am now busy preparing new work for an Art Fair this November in London, which will be at the Oxo Tower (http://royspeopleartfair.com).  More details in future blogs.  I am hugely excited.
I want the theme of my work to be based on Amy Winehouse, a singer of immense talent, gone too soon.  I have been in touch with her mother about this, as we are known to each other on Twitter, to ask if it would be ok for me to use titles from Amy's records as titles to my artworks for this London Fair.  I do not want to upset anyone here, Janis Winehouse has given me her blessing, but if any of you Twitterarti out there think differently, could you let me know who I should approach? Cheers.   I painted a portrait of Amy some years back, and this will feature in the exhibition as well.
As regards this piece,  the detail is a small part of a much larger work and I am inspired here by the wonderful street art of @whoamirony on Instagram.   I will of course have a woman in the foreground somewhere doing something related to the streetart, but which changes it's dynamics.  I am grateful for local model Libby who patiently let me place her in various poses that would work in the compositions in my head involving Amy street art.  I took most of the photos in an around Camden, Amy's stamping ground.
If you would like to be kept up to date with what I am up to in the next few weeks please sign up for my Newsletter at the top of the Home page. I am also on Twitter, Instagram and have a Facebook page called Miche Artist.  Feel free to get in touch.